Upholstery Cleanin Upholstery Cleaning With A Difference In sw19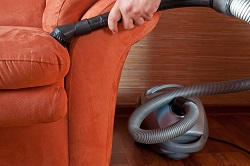 Upholstery Cleaning SW19

Caring for your upholstered furniture is something that many people ignore and yet it is essential to the long-term health of your interior. Neglecting to keep up with upholstery cleaning can result in severe structural damage, damage that cannot be reversed. This is why Carpet Cleaning Colliers Wood are proud to offer an upholstery cleaning service in the SW19 region, allowing you to have cleaner and better looking sofa fabrics, drapes, and couches.

Our team of experts understands the delicate nature of caring for upholstered furniture and will take extra care when cleaning each and every item. We use only the highest quality products on the market and specialise in steam cleaning for a deep clean that removes trapped dirt and dust from all the hard to reach places.


Comprehensive Upholstery Cleaning

At Carpet Cleaning Colliers Wood, we understand how valuable your furniture is to you, which is why we not only provide a comprehensive clean but also give our clients peace of mind by offering repair services should there be any signs of damage or wear throughout the cleaning process. Our goal is ensure all fabric looks as good as new when completed and lasts longer than before.


Intensive Cleaning Process

Our upholstery cleaning process is intensive yet gentle. We use advanced machinery including handheld cordless vacuums to suck out those pesky specks of dust, excess hair and pet fur. Our team then pre-treat any areas of staining before giving your furniture a thorough scrubbing with eco-friendly cleaning agents that are tough enough to remove dirt and grime without damaging the fabric itself.

Once done with this step, we'll leave your furniture to dry thoroughly before performing a second round of vacuuming using our powerful equipment meant to break down any excess dirt particles left behind after the first vacuuming stage has been completed. This ensures your furniture won't fall prey to any stains caused by moisture accumulation due to incomplete drying.


Stain & Odor Removal

If there's an unpleasant smell coming from your couch or armchair due to heavy usage or food spillages, we can help resolve this too! Our extensively trained upholstery cleaners have immense knowledge in removing even the toughest stains from most materials including leather, velvet, cotton and faux leather. Plus, if you're dealing with stubborn odour particles then no need worry as our specialist machines are designed to fully eradicate these unpleasant odours leaving your furniture sparklingly clean and smelling good as new!


For The Best Upholstery Cleaning In Colliers Wood SW19 Call Carpet Cleaning Colliers Wood Now!
Here at Carpet Cleaning Colliers Wood, we firmly believe in providing our customers with an outstanding service each time they come to us for their upholstery cleaning needs. Whether it's a single piece or sections of furniture from across the entire home - no job is too big or too small for our dedicated professionals who always go above and beyond to meet customer expectations. So if you're looking for a reliable upholstery cleaner in Colliers Wood SW19 then don't hesitate to contact us today! Give us a call on
or visit our website for more information about prices and services offered!